Recipe portals are one of the hottest kinds of sites today. With the continuing popularity of lifestyle TV channels and their line up of celebrity chefs, the average person would want to find ways to make what they see on TV and read in magazines a reality. With this new recipe search engine, cooking up a storm just like your favorite celebrity chef might just become easier.
Recipe Finder is a custom-built search engine that can be used by cooks of all ages and experience. Whether all you know is how to make a hardboiled egg or you have countless dishes in your repertoire, you will find Recipe Finder useful. With almost 1.7 million recipes and more than 700,000 images in their collection, you will certainly find a lot of results to satisfy your needs. Oh, and with each recipe you view, you are present with related videos.
The user interface is very easy to use and rather easy on the eyes as well. Take a look at it for yourself.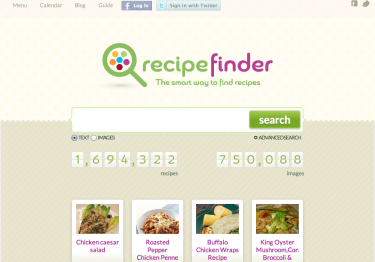 In order to search for a recipe, all you need to do is enter the recipe name or ingredients. It's that easy – and you'll get more results than you can use. Now if you have a little more experience, and you want to conduct a narrower search, you have the option to do so. Using the Advanced Search feature, you can specify cook time, calorie count, and number of servings. Using these options will certainly make your life easier!
For a more in-depth feature on Recipe Finder, you can visit The Blog Herald. If I you can't wait to get started on discovering the next new recipe to try out, then head on over to the search engine itself!