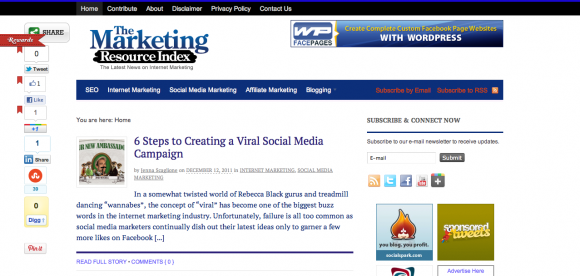 How are your marketing efforts going? Are you seeing the results that you want, or are you wondering what your are doing wrong? Marketing is definitely one of the major activities that businesses of any size or type focus on these days. With competition being as tough as it is in many sectors, businesses need to gain that competitive edge that a successful marketing campaign can bring.
If you want to learn more about marketing and its different aspects, you might want to pay a visit to Internet Marketing News. This is the blog of The Marketing Resource Index, which specializes in all things marketing.
In the blog, you can learn how to create a viral social media campaign on a step-by-step basis. You can learn how to take advantage of social networking platforms such as Google Plus, and how to make the most of mobile platforms. More so, you can keep up on the latest news related to Internet marketing. If you want that edge, this blog should be one of your resources.