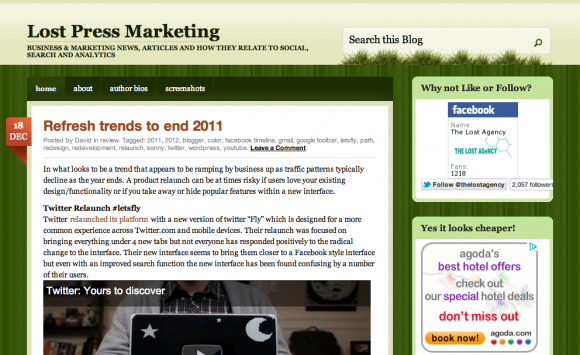 Founded by David Iwanow, Lost Press Marketing is all about looking for solutions to various issues in marketing. The blog has risen to great heights, even being included in the top 100 blogs as listed by Junta42, a content marketing site.
In the blog, you can read about advanced marketing tools which can help you achieve success in your digital marketing strategy. The blog tackles topics such as optimizing your web site/s to please the big G, how to launch a successful AdWords campaign, how to analyze your traffic using analytics tools, and so on.
You can also read up on news and trends related to the topic. In doing so, you can evaluate what you are currently doing and see if there is anything that you need to adjust in your marketing strategy. You can also gain inspiration and insights so that you can launch new campaigns in the new year that is to come. If you need marketing knowledge and inspiration, this is the place to consult!