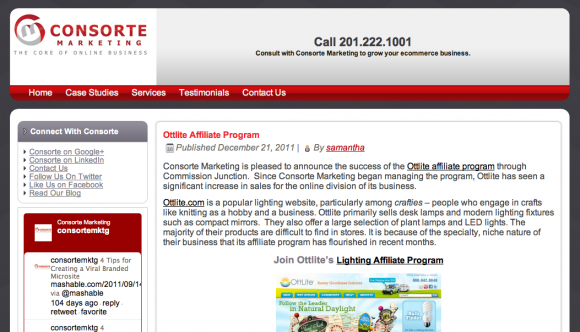 Internet marketing is a hot niche today, with businesses competing with each other on a daily basis. Whether you are a brick and mortar business making your presence felt online or you are a purely ecommerce business, internet marketing is a vital part of your activities.
Consorte Marketing is a consulting group that aims to give ecommerce businesses a boost. They have an internet marketing blog wherein they provide tons of information that business owners can take advantage of.
Learn how to take advantage of Craigslist so that your business can expand its reach. Learn how to make the most of Google Analytics so that you can gain insight into your web site visitors and customers. Learn how to make more using affiliate programs. All these – and more – the blog offers readers free of charge!
If you want to take your business to the next level by knowing more about internet marketing, you cannot go wrong by making sure you visit this blog regularly.