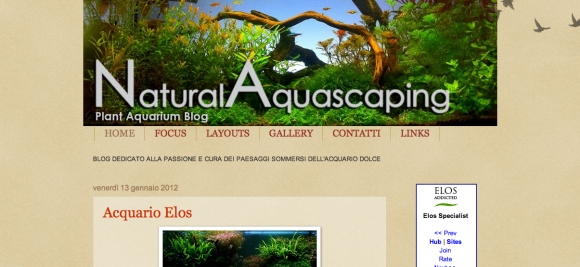 There is no denying the fact that aquariums give off a sense of calm. Have you ever wondered why you tend to see aquariums in places where they offer massages (or spas), doctors' and dentists' offices, and other similar locations? At home, the addition of an aquarium will definitely enhance the atmosphere!
A large part in setting up and maintaining an aquarium involves plants. There are some who opt to have a bare tank, perhaps, but plants are needed by the fish, and they do make the setup even more beautiful.
If you are an aquarium enthusiast, and you want to know more about using plants in your tank, I suggest visiting Natural Aquascaping – Planted Aquarium Blog. This Italian website (Google Translate can help non-Italian speakers/readers!) will give you a lot of practical information on how to set up your tank, what kinds of plants to use, and so much more.
Definitely a must-visit resource for anyone who is into aquariums!