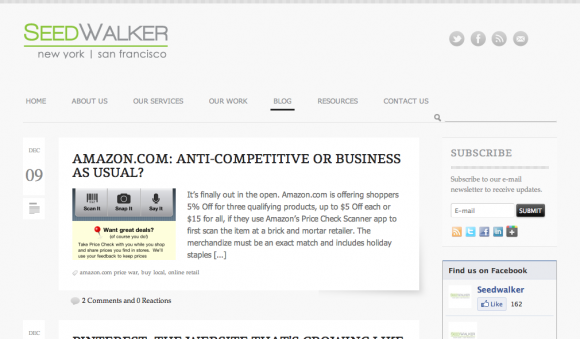 Are you a business owner? How engaged are you in the online community? Perhaps you already have some sort of presence online. Perhaps you think that it is about time to do something more. Whatever your situation may be, if you are looking into improving and expanding your digital strategy, then the Seedwalker Blog for Digital Strategists might be what you have been looking for.
This blog is the extension of Seedwalker, a digital strategy consulting practice. The company has offices in New York and San Francisco.
In their blog, Seedwalker offers its readers a wide range of information related to digital strategies that any business may employ. You can read about web sites – both established and up and coming – that may be of benefit to your goals. They also feature successful companies and share valuable lessons that you may apply in your own situation. From blogging to brand strategy to online retail – you will pick up a lot of tips from the blog.