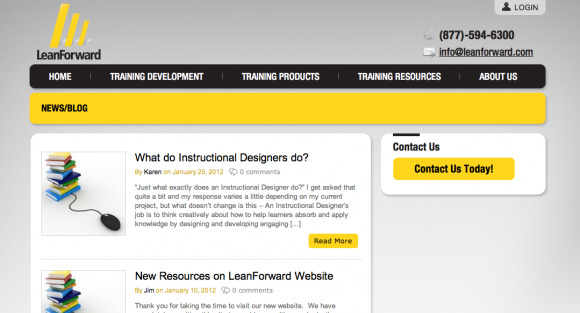 LeanForward is a training solutions company that was established in 2000. For more than 10 years, the company has served companies big and small, including Fortune 500 companies. They pride themselves in providing high quality and effective eLearning solutions that clients find affordable.
The company has a blog, LeanForward's Blog, where clients – both existing and prospective – can find out more about what they do and the services they offer. The blog also serves as a showcase of the specific solutions that LeanForward has implemented for certain clients. More than this, you can also read about news and updates related to training products.
Training employees is vital to a company's success. Only if the employees are equipped with the knowledge and skills that they need can they deliver the performance that you expect and desire. If you are looking for a training solutions service that can help you help your employees become better workers, why not take a look at LeanForward's Blog and see if a partnership is possible?