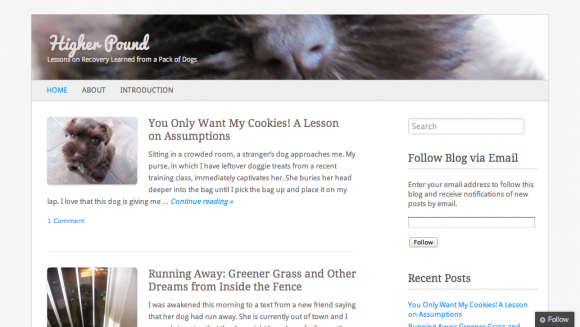 Some people are more prone to addiction than others. While the degrees of vulnerability vary from one person to another, there is no denying that when one is in the throes of addiction, it is never easy to get out of that rut. The good news is that there is always hope, and when an addict seeks help, that is the first step to recovery.
Higher Pound: Lessons on Recovery Learned From a Pack of Dogs is one of the most touching blogs you can find that deals with recovery from addiction. It is the personal journey of a woman recovering from alcoholism. She diverges from the usual recovery program in that she shares how she has found direction and inspiration via our man's best friend: dogs.
This blog draws upon Jennifer's own experiences, and it details the lessons she encounters from her volunteer work at a local shelter. Do you think that you need a fresh perspective on recovery? This blog can give you that.