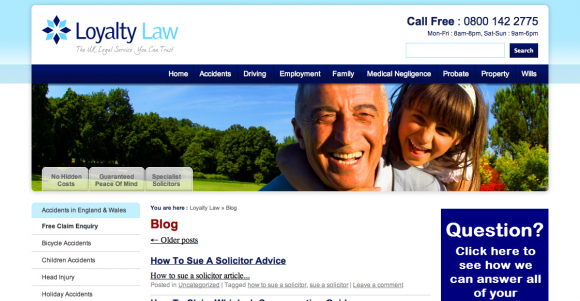 The Loyalty Law Blog is the extension of law firm Loyalty Law, which is based in the United Kingdom. They offer specialized services to clients in England, Wales, and Scotland. Wherever you may specifically be in these areas, you are sure to have your needs met by the law firm.
They offer a wide variety of services, including claiming for whiplash. The blog is overflowing with practical information on insurance claims, the government's stand on related issues, and related news items. Now and then, you will also get gems of inspiration from the posts, which may not necessarily always be about the main focus of the site. For example, there is this brilliant post on Malcolm Gladwell's 10,000 Hours Principle.
If you are currently facing a situation wherein you need a solicitor, or you know someone who is, it is for the best that you check out the Loyalty Law Blog. You will, at the very least, discover a very viable option.