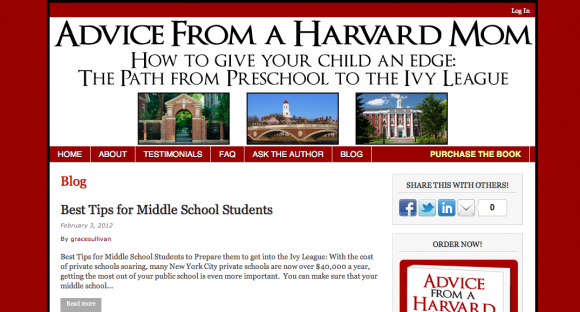 Are you a parent with a kid who is growing up too fast to suit you? Parenting is perhaps the most fulfilling thing in the world, but it can also be the most complicated activity you'll ever engage in. There is no go-to book for parenting, and we often have to deal with things the best we can as they crop up.
Fortunately, though, we can also learn from other people's experiences. That is why there is a lot of parenting blogs out there! And if you like frequenting those kinds of blogs, why don't you try Advice from a Harvard Mom?
Written by Grace B. Sullivan, this blog is chockfull of useful advice for any parent. Even if your kids are not attending Harvard – or any university for that matter – you will still learn a lot from the experience of Grace, who is also a teacher and private tutor. If a good education is high up in your list of priorities for your children, you will love this blog.