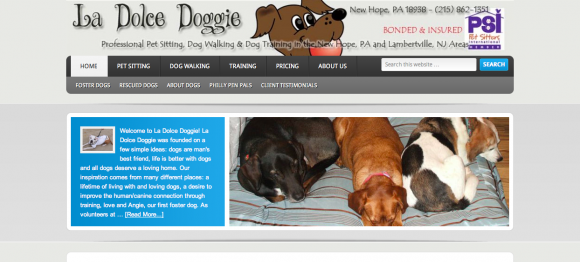 Love dogs? Who doesn't? Well, there are indeed people who couldn't care less for our canine friends, but if you are a dog lover and you are looking for Pet Sitting, Dog Walking and Training in New Hope PA, then La Dolce Doggie is the site for you.
The premise of the site is simple, but lovely: "dogs are man's best friend, life is better with dogs and all dogs deserve a loving home". You can learn about the services that La Dolce Doggie can offer, if you are in the area. From pet sitting to dog walking to training – you can avail of these essential services.
In addition, if you really have a heart for dogs, you will love the idea of helping rescued dogs. In the site, you can also learn about pets that are up for adoption. More than doing what you can for your own pets, you might want to extend a helping hand to others in need!