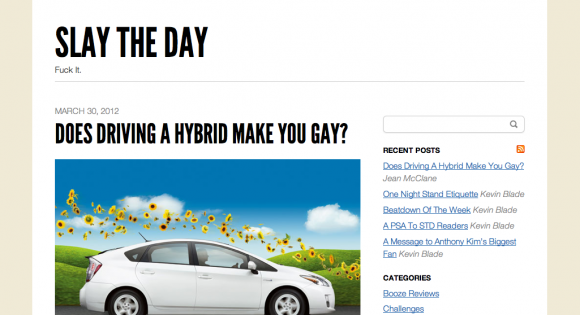 Slay The Day is the blog of Kevin Blade, who seems to wield his pen (or keyboard in this case) the way one would wield the weapon that is his surname.
The blog is rather new, with the earliest post dating back only to February of this year. What has been published will make you sit up and pay attention, though. From what I have read, the blog is geared towards men in general, but I think that gender will not matter if you have the same frame of mind as Kevin. One thing is for sure: you will appreciate the wit and snark.
So far, the blog has the following categories: booze reviews, challenges, girls, health, life, sports, and STD. Interested yet?
For a fun read that will get you laughing, snorting, or maybe scoffing, I suggest that you pay this blog a visit. Forget seizing the day. Slay it with your bare hands!