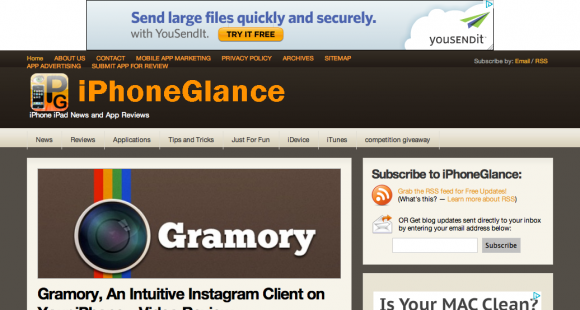 Addicted to your iPhone or iPad? Maybe you will not admit it, but you just might be one of those who cannot go without his precious gadget. It is understandable, really. With everything that you can do with the iPhone and iPad, it is no surprise that people who have them are rarely seen without the gadget in hand.
If you are always on the hunt for some new app to make your iOS experience even better, why not check out iPhoneGlance? While you probably do more than glance at your iPhone, you can find iPhone and iPad App Reviews from this site. From photo apps to games to whatever it is that might catch your interest – you can find reviews here.
iPhoneGlance also offers tips and tricks that can make your device even more enjoyable than it already is. For the latest (and popular but maybe not so new) iPhone and iPad app reviews, this site can be one of your regular haunts.