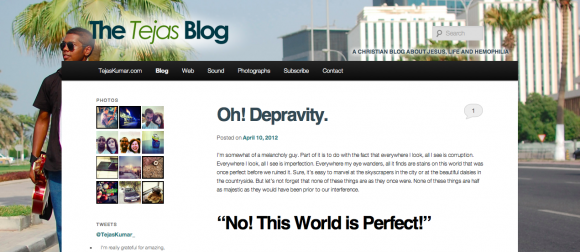 The Tejas Blog is a Christian Blog about God, Life and Hemophilia. The guy behind the blog is a man of many facets, some of which include building web sites and fiddling around with graphic, UI and logo design and web development with geeky stuff like PHP and MySQL.
In his blog, though, you will not really find too much of that techie stuff. Instead, you will find deep insights about life, faith and God, and the struggles human being face on a regular basis. The Tejas Blog is rather new, and you will see only a handful of posts (as of this writing). What you can find in the blog will definitely make you stop and think, though. It is not really light reading, but you will certainly find yourself pondering upon life – something that you may not do on a regular basis.
Don't get me wrong this blog is not about negativism, but I think it's more of seeing reality and maybe doing something about it.