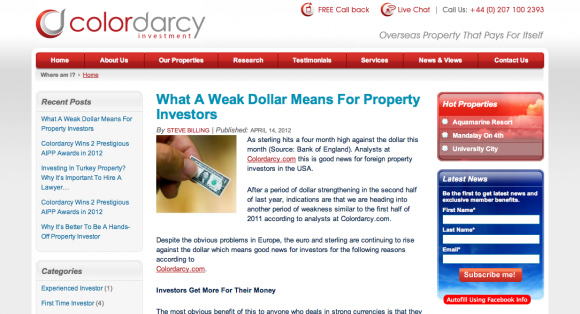 Colordarcy's Overseas Property Blog is a must-visit for anyone who is involved in procuring properties abroad. This overseas property investment blog is chockfull of information that investors can make good use of.
The people behind the blog are experts in the field of property investing, and they have made a name for themselves. They are all about making a difference for their clients, no matter where the location of the investment is at.
In the blog, you can read news and updates related to overseas property investment. From properties in South America to Europe – you can find out more about them in the blog. New investors will also gain useful knowledge about the activity, making sure that they get the proper guidance. Additionally, you can read up on updates about the company so that you can know more about them and the services that they offer.
If you are looking at multiplying your assets by investing in overseas property, you can't go wrong with Colordarcy.