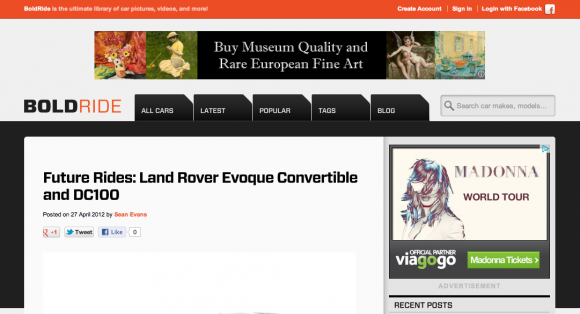 Bold Ride is a blog for car lovers of all sorts. It features car photos, videos, news updates and more! If you think that it's your average car blog, you might want to think again.
The blog is chockfull of photos cars old and new. Whether you love the vintage look, or you want to keep abreast of the latest models, you will find a lot of eye candy in this blog. If you want more than still pictures, you will not be disappointed as well. For sure, the videos shown in the blog will occupy your time.
One of the great things about the blog is that there are several contributors who know what they're talking about. This is a case where more heads are better than one, for sure.
And whatever your preferences are, you will find something to catch your interest. From concept cars to vintage cars to sports cars to muscle cars – this blog will satisfy the car enthusiast in you!