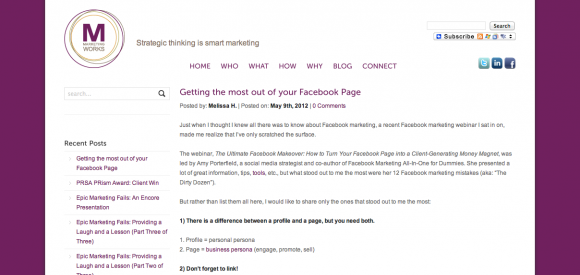 Marketing is an ever changing landscape. Whether you focus on the online or offline realm, you will always be met with challenges. How you come up with your strategies for success is totally up to you.
Of course, obtaining some help from the experts is always a good idea. If this is what you need, I suggest visiting the blog Strategic Thinking is Smart Marketing.
It's all about Marketing Tips and Best Practices as shared by the team of Marketing Works. Brenda Stier-Anstine, Sandra Fekete, Stacy Wood, and the rest of the team will make sure that you are in the best of hands.
In the blog, you can read practical information such as how to make the best of Facebook for your marketing needs, learn from the mistakes of others, and many other things that you can actually use for your own marketing efforts.
Start with the blog and maybe even get in touch with them for more specific action!