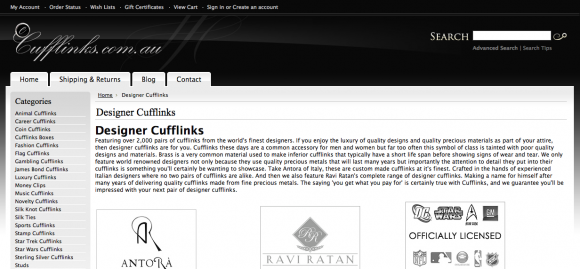 Trends in the fashion scene change quickly. Sometimes, they change faster than you can blink an eye. With all the changes, however, there are certain elements that remain a staple.
Cufflinks, for example, have been around for as long as we can remember, and these decorative fasteners have outlived many other accessories. They can be worn by both men and women, with the main purpose of fastening sides of a dress, shirts, or blouses.
If cufflinks are your favorite accessory, then you will love the site Designer Cufflinks. This site is based in Australia, but their collection is so impressive that you just might want to order wherever you are. The collection covers various categories: animals, flags, James Bond, music, sports, and even Star Trek!
They also have a blog from which you can learn everything you need to know about cufflinks. From history of cufflinks to how to choose the right cufflinks – you will be a cufflinks expert by the time you finish reading the posts.