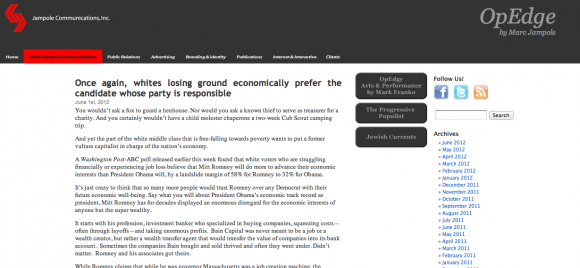 What do you know about marketing? For the average person, marketing may be a vague sector which is not totally understood but fully accepted. After all, we all experience the effects of marketing on a daily basis. Wherever we go, whatever we purchase, there are probably some marketing efforts behind the choices we make.
If you are in the marketing sector, or you are interested in testing out its waters, do visit OpEdge Blog.
This is the blog of Jampole Communications, Inc., which prides itself in creating cost-effective marketing communications programs and campaigns that produce the results that their clients desire.
In the blog, you will discover a good quantity of entries covering a wide range of topics: from business matters to ideological subtexts to media & marketing matters. Additionally, you can feed your artistic side with poetry & literature. Other topics to discover: public relations, social & political issues, and words & languages.
You will certainly not lack for reading material here.