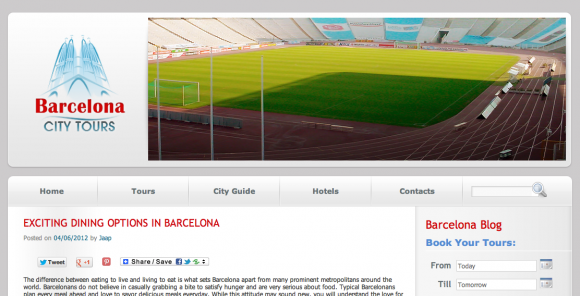 Barcelona is a city which in every travel bucket list. Practically.
This is quite understandable, as this vibrant Spanish city has so much to offer visitors. I have to admit that it is one of my must-visit cities.
If you are planning a trip to Barcelona soon – or even if it's not so soon – why don't you visit this Barcelona travel blog?
As the name implies, the blog tells you all about Barcelona, with the focus on visitors. The blog gives you practical tips such as accommodations, what to do, where to go, and other common bits of information that visitors want to know.
Additionally, you get deeper insights about the city. For example, you can learn more about Antoni Gaudi and his influence on the city. Find out how to enjoy your Barcelona to the hilt, learn about the best beaches in the area, and discover the story behind tapas.
Whatever you want to know about Barcelona, you will find it here.