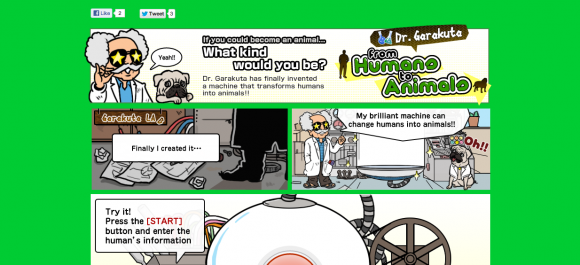 The Internet is for [INSERT YOUR ANSWER HERE].
What goes between the square brackets will certainly vary depending on the people you ask, but I think we wouldn't be wrong in assuming that silliness and fun would commonly mentioned. After all, while the Internet serves a lot of practical purposes, it also does wonders for those who are bored, or for those who simply need a laugh now and then.
Speaking of silliness, here's a web site that can give you a brief respite from the stresses of your day: Ningen-pet.com.
This web site is all about Dr. Garakuta's amazing invention: the machine that converts humans into animals. Now you might wonder why on earth anyone would want to be turned into an animal, but one look at the kittens enjoying their almost day-long nap around me is almost enough to convince me!
Anyhow, you can play a little bit with this web site and see what kind of animal you turn into. Have fun!