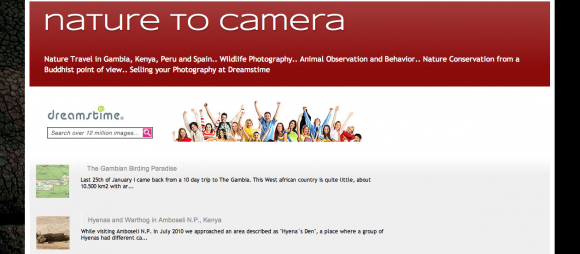 Photography enthusiasts will have their preferred subject matter, but I think that taking pictures of nature is the best kind. That is, of course, a personal preference, but the awe that wonderfully taken photos of nature incites in my is hard to beat. I'm sure that many of you would agree with that.
And if you're the kind who gets mesmerizes with these types of photos, then you will like that blog nature to camera. The blog name is pretty explanatory – it's all about nature photography and conservation.
The awesome thing about this photo blog is that the Joan Egert, the blogger/photographer, focuses her work in Gambia, Kenya, Peru, and Spain. No doubt, these parts of the world have some of the most beautiful natural scenes and wildlife. And Joan is right there to capture various scenes – from nature to camera.
More than the photos, you can also read short commentaries from Joan. These commentaries add more insight to her travels and photos. Beautiful!