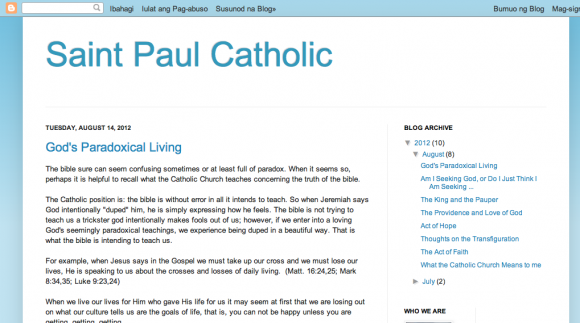 Belief in something is a human need. For some people, only faith can get them through the most difficult of times. While religion may have a tendency to spark controversy, especially when people of different faiths don't see head to head, there is always place for tolerance and understanding.
If you live by the Catholic faith, or you are simply interested in learning more about its doctrine, you might be interested in following the blog Saint Paul Catholic.
This blog is the result of the combined effort of the members of Saint Paul Catholic Church, which is located in Pensacola, Florida.
In the blog, you can read about specific doctrines that Catholics live by. Additionally, you can read about personal experiences and thoughts of some of the members of the church. Topics such as what the Catholic Church means to an individual to acts of faith and hope to seeking God – you will find a lot of insightful thoughts in the blog.