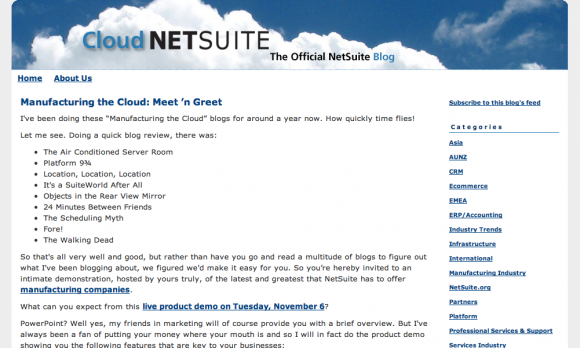 Manufacturing the Cloud is the blog of NetSuite Inc., a leading provider of on-demand, integrated business management software. Their target clientele are mid-size businesses, as well as growing businesses.
NetSuite was founded in 1998, and it has since then grown exponentially to serve clients all over the world. The company has a host of online and professional services, which assists companies in making sure that their operations run smoothly and successfully – from customer relationship management to accounting and finance to employee productivity.
They have an online extension, where you can discover creative blogs about cloud computing.
In the blog, you can read about the much-talked about cloud computing trend, but you'll see it in a whole different light. Cloud computing has taken the world – both business and private – by storm, and it has impacted our lives so much that everyone has had experiences with the cloud. No matter to what degree you understand the underlying technology, this blog will prove to be an interesting read.