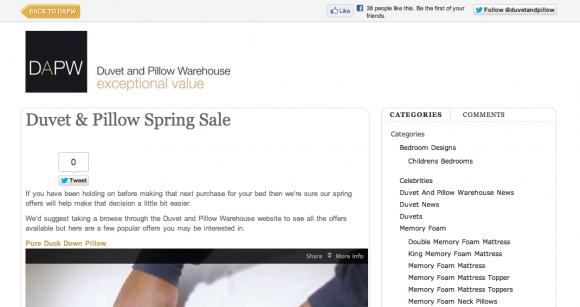 DAPW Blog is the place to hangout in for people who can't get enough of duvets and pillows, and why shouldn't people be passionate about these things? After a long day at work, there is nothing more comforting than coming home to a lovely bed with soft and fluffy pillows and an enveloping duvet to give you warmth.
While some people may see duvets and pillows as mere furnishings, they can spell the difference between a good night's sleep and a disastrous night. And we all know which one we would prefer any day, yes?
The Duvet & Pillow Warehouse Blog is an awesome place to find out about sales and promos, as well as the latest items on offer.
If you want the best quality materials without paying an arm and a leg – not to mention not having to leave your seat – this blog should be on your watch list. Oh, and there is always the bonus of seeing pictures of cuddly animals. 😉