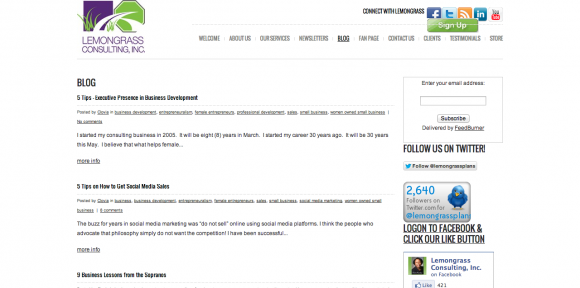 Lemongrass Blog is a business advice resource by Clovia Hamilton, an award-winning instructor, speaker, writer, manager, and collaborator.
Clovia has around 30 years of experience backing her up in the fields of civil engineering, urban planning, and technology transfer – among others. She also has experience in project management, business planning, and business development. All of these things she has put into her own company – Lemongrass Consulting, Inc.
In her blog, entrepreneurs – budding or experienced – can learn a lot. Even managers and leaders in the workplace can pick up a lot of lessons which will prove to be useful on a daily basis. You have the usual topics revolving around business, development, and strategic planning. Social media is also covered, and some elements of fun are integrated into posts such as "9 Business Lessons From the Sopranos".
If you want to take more steps towards success in business, this blog will certainly help point the way.