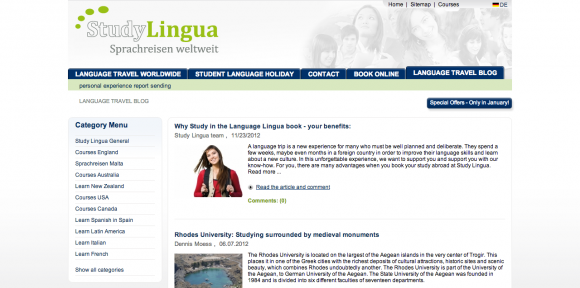 Sprachreisen Blog von StudyLingua Deutschland is the site to visit for Germans who want (or need) to learn a new language. With the tagline Sprachreisen weltweit, Sprachkurse und Sprachschulen, the site offers tons of information about learning different languages.
The site is in German, obviously catering to learners from that particular country, but the contents can be used by people who speak other languages – as long as their goal is to learn a foreign tongue as well. That's what Google Translate is for!
The blog presents a mixture of posts. There are entries which are narratives of the experiences of students learning new languages. There are entries which focus on universities and learning institutions which are options for learners of foreign languages. The institutions are scattered worldwide, not limited by geography.
If you have the desire to pick up a new language, and you want to do something about it, this site can be your first step.