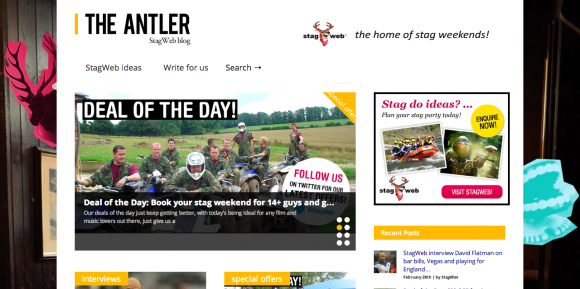 The Antler is the StagWeb blog. StagWeb is a well known name in the world of events and experience planning. The company started back in 2001. Today, they have provided stag do ideas to hundreds of thousands of clients in the UK and in Europe.
Whether you are an existing customer or you are merely taking a look around, you will find some interesting content in the blog. Of course, it serves as a venue for the company to promote its services – from normal packages to promo deals. Company-related news and updates are also to be found in the blog.
On top of these, there is some value-added reading, such as interviews with well known personalities in the UK. You can also pick up useful tidbits such the top 10 blokey Twitter accounts you should be following. Additionally, you can get some destination ideas which you may or may not book through the site.
It's a man's site, this one, and it looks like loads of fun!