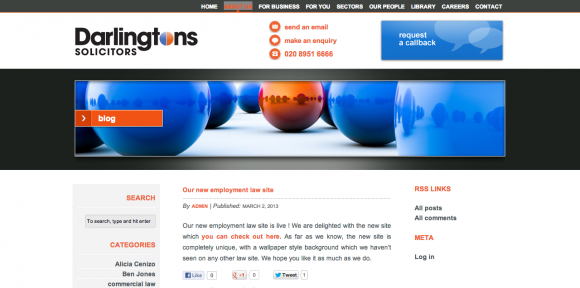 Legal Advice and Updates is a solicitors blog, with Darlingtons Solicitor behind the wheel. The firm has been around since 1999, providing quality legal advice to their clients. Their philosophy is simple: quality, commercial, cost effective legal advice, coupled with proactive service, results in satisfied clients and repeat business. The firm covers a wide range of legal services, including company law, commercial or business law legal documents, employment law, divorce & family law, conveyancing, probate, and litigation.
The topics presented in the blog are just as varied as their specific services, with expert lawyers making sure that the quality of the content is topnotch. You can expect specific questions to be answered, such as "Should sperm donors be able to apply for contact orders?" Other topics include agency workers regulations, breach of confidentiality, fraud, disputes over wills, and so much more.
Whether you have a specific question or you are looking for general information, you will find this blog to be a good resource.