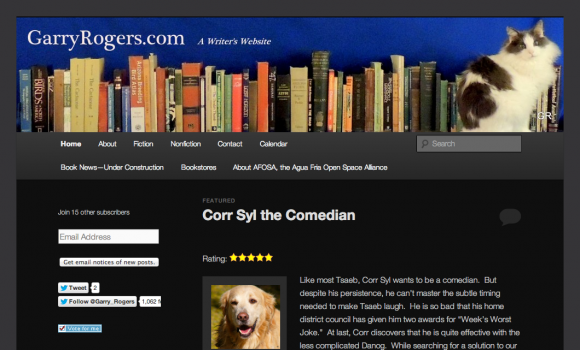 GarryRogers.com is the website of the writer bearing that name. He writes about many things, but focuses on fiction & natural history about animals. Born in eastern Oklahoma, Garry now resides in Arizona, where he weaves his own worlds through his writing.
What can you find in Garry's blog?
Naturally, you will find news and updates about his writing. Books, written works, works in progress, and even awards – you will read about them in the blog.
More than that, you have the chance to discover good reads. Garry shares his thoughts and insights on books – written by other authors – and you can make your own decisions whether to read them or not.
If you care about the environment and wildlife, you will also like reading Garry's posts about these topics. Enjoy may not be the right word, actually, as some of the things he posts are rather heartbreaking, but action-inducing.
This may be labeled a writer's website, but it sure does give you a whole lot more than writing.