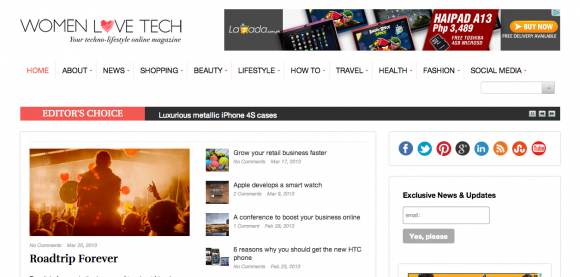 Tech is definitely part of everyone's lifestyle today. With the accessibility and affordability of tech devices, it is no wonder that people from all walks of life rely on technology. The degree may differ, depending on the person, but that reliance is there.
Women Love Tech is a special web site for women who love technology and see it as part of their lifestyle. Much like many tech blogs, it covers a lot of ground – he latest fashion, beauty, travel & health apps, iPhone & iPad accessories, social media news, product review, gadgets, and everything you can think of. More than that, however, the blog focuses on women who live a hectic life. You know, those who have a lot of things to juggle – work, family, and friends – and don't have much time.
If you want ideas for a road trip or a weekend break, you'll find it here. If you want to know whether to get the latest phone or not, you'll find some tips here. It's practically like having a virtual girl friend!