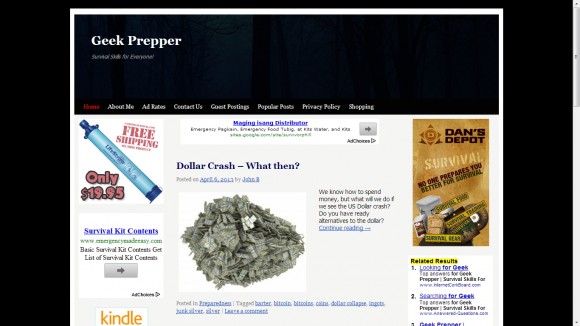 Life is too short to not know how to survive in the most challenging times. A blog called Geek Prepper turns a regular Joe to an expert in survival. John, the blog owner and a family guy claims that he is not a professional. He is not a fan of outdoors and he never served the military, however, he started to learn survival from own experience.
Geek Prepper Survival for everyone is described as blog about preparedness, bushcraft, survival and self-sufficiency. It provides tips, tricks, guides, solutions and other interesting survival stuff that most cannot even think about.
It is also interactive as readers are able to connect with the author through comments. Other features of the blog are the online shopping where you can shop for the best survival kits care of Amazon, there is also an option for article guest postings. This blog is ideal for people who would want to know the basics on survival and ideal for people who would like to discover new things prior travelling.