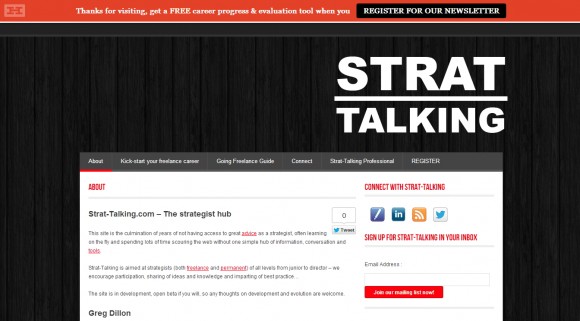 Strat-Talking is a site that aimed the founder, Greg Dillon, to help professionals learn, exchange different ideas, share and gain knowledge, and basically let the readers leave the site with more wisdom and understanding about strategies in the business world. It is open for both freelancers and permanent workers. The site is also defined as somewhat a common hub for strategists.
The blog freelance strategists also offers different kinds of services like coaching services for anyone who would like to reach their goal in the freelance and professional world.
The person behind Strat-Talking.com is the entrepreneur, Greg Dillon. He is the founder of Strategy Consultancy GD |Inspires. At the same time, he is also working with various clients and on different kinds of design agencies around the globe. With his ability to lead people to becoming a better entrepreneur, it is not doubt that Greg Dillon's sites will be able to help boost the freelancers and permanent worker's have a better and stable source of income. Another site that he is working on is the Phopus.com. The site entails photographs that aim to inspire newbies and aspiring photographers in the world of photography.  Start earning and learn from the expert, Greg Dillon.