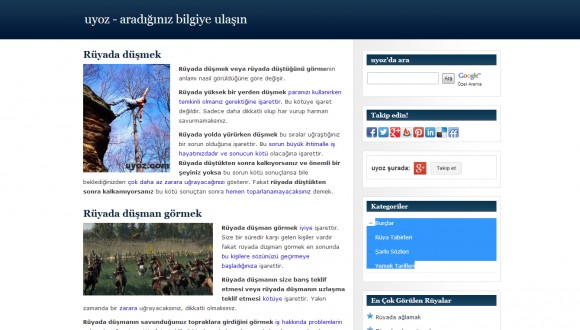 You fall off a cliff and you survived, you were beaten by snakes and found out you were bleeding, you kissed your Hollywood crush, someone close passed away or your wobbly tooth fell off, these scenarios are possible, most especially in your dreams. These animated description of dreams often times have meanings as the blog Uyoz says.
Uyoz is a dream interpreter blog from Turkey. The blog will help you understand what your dream really means. The main subject about your dream or the item that always shows up in your dream is the key to help you be more enlightened.  There are several available topics that are archived and can easily be searched from the blog. The only downside is that the blog is in Turkish but can easily be translated with a translation site. Just remember to get the most reliable translation site.
The blog provides a way out to your dream confusion and can help you, most especially with the short description that the blog provides. The description of signs is brief and straight forward, which is a good thing.  Other things you may want to check out from the blog are the following: Horoscopes, Song Lyrics and Recipe.