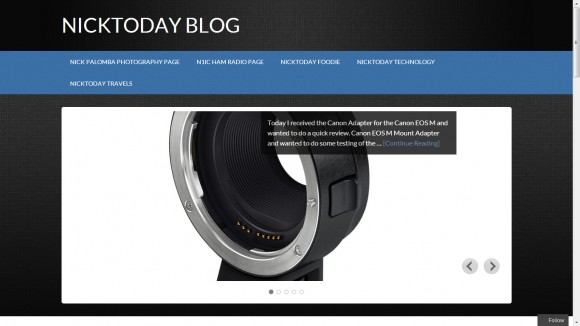 NickToday.com is a blog by Nick Palomba. In the blog, he described himself as a person who puts his role first as a husband and a father. He has been in the IT industry for over 20 years and this just proves that the family guy knows a lot when it comes to technology. His blog mainly discusses on Photography, Ham Radio, Cooking, BBQ Judging, Computer and Technology.
The ultimate goal of the blog is to share what Nick Palomaba is passionate about and to deliver information that can be beneficial for anyone who visits the site. Readers who are interested in the field of photography will surely enjoy this blog as the latest camera and camera accessories are showcased in the blog. You also get to enjoy several useful tricks and tips from Nick Palomba's photography skills. The blog also has various pages such as, N1IC Ham Radio Page, Nick Today Foodie, NickToday Technology and NickToday Travels.
Overall, the blog is great and a lot of people can definitely learn from it, especially readers who are into techy stuff. You can also visit the site as a reference for good finds whether you want to see the best place to eat or to know the latest in the techno world.