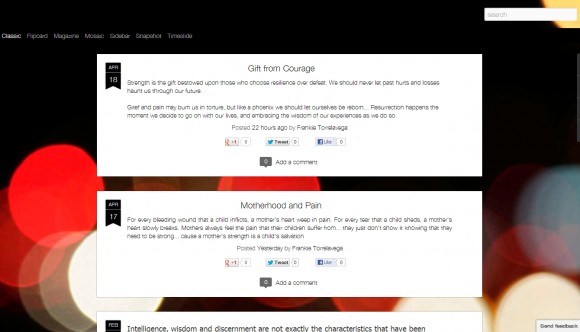 Life may not always be all that happy as it is already given that everyone will experience a low point in life. Good thing there are blogs such as Weaving Insights from Pensive Strands. The blog is basically all about wisdoms that life is teaching us.
It is a fact that a lot of people today may experience stress and other unexpected events in life that leads to depression and the like. These low points in life are brought by different stressors and various elements. The content of the blog includes a number of phrases, sayings and articles that pertains to boosting a person's self worth. In the blog, you will also notice that a lot of the articles are engaging, which is very helpful for anyone who is feeling blue. Because of this, it encourages the reader to overcome trials and face the world again with a smile.
The blog includes a wide variety of interesting topics that anyone can relate to. Love, how to deal with low self esteem and filling the emptiness of a person are just few of the most interesting topics the blog has. This blog is ideal for a person who wants to be inspired or who wants to inspire someone.