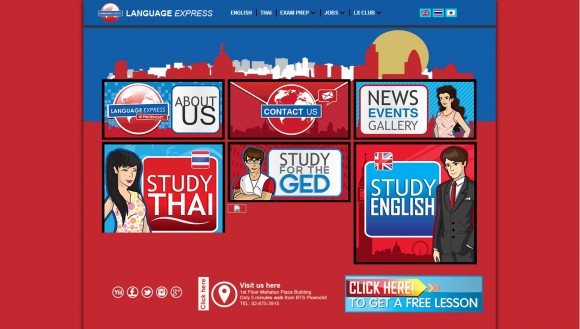 LanguageExpress.co.th is a Thai site dedicated in helping people who would like to learn the Thai language or at least be familiarized with the Thai language. Upon visiting the site, you will already be greeted with a number of English to Thai language translation of words to help you get a gist on how the site works and what the site offers. On the other hand, people who may want to learn the English language can also avail the site's services as well.
Other things that can be seen in the site are the exam preparation, jobs and LX club. There are sub categories under exam preparation which are the following: GED, SAT, TOEIC, IGCSE, MUIC, TOEFL & IELTS, CU-TEP & TU-GET AND CU-AAT & CU-ATS. While the sub categories under job are agents and careers. Lastly, the sub categories under club are booking system, LX news, Lx events, LX gallery, LX stuff and blog.
The site also offers free lessons, so readers can experience what Language Express is offering. The site encourages readers to either contact them online or personally visit Language Express in this address: Ploenchit BTS exit 2, 1st Floor, Mahatun Plaza Building, Ploenjit Road, Lumpinee Bangkok 10330‎.