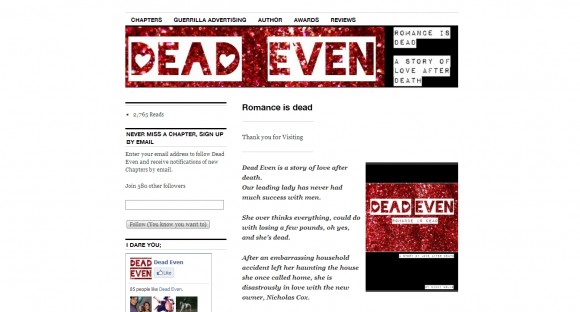 People who have been acquainted with Casper the friendly ghost would say that lurking spirits around the house are not to be afraid of for they are but souls hoping but somehow not yet succeeding to get to the other side. On the other hand, ever thought that it is it not a freaky spirit haunting you but a lost soul desperately making its presence felt because it's in love with you? Sound strange? Well, that's what you'd get in Dead Even, "a story of love after death, Romance is dead". It's strange and strangely intriguing.
Some of the deceased have an unfinished business. What if that unfinished business is to find the right partner? Is everything a little too late? In this blog, you're search for a story that surpasses the bounds of the conventional will be rewarded.
It is a story about the spirit of a girl who dies a clumsy death and finds that she is attracted and falling in love with the wealthy and handsome new owner of the house she once lived in and never left. You may agree that it is frustrating to fall in love with someone who is does not know you exist. For the protagonist, this downside of being dead is aggravated by the fact her efforts only serve to spook the guy. What would you expect of a ghost? Now, want to know how things end for the ghost in love? Check out the blog and read on!