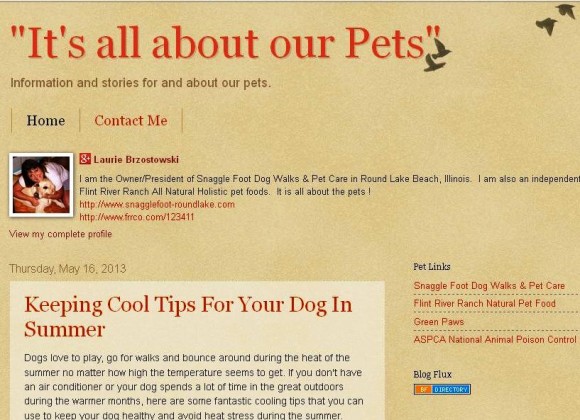 Dogs are great companions to individuals and families. As man's best friend, a dog has the ability to entertain people, save a life and help improve a person's emotional condition.
It's all about Pets is your go-to blog if you need tips on raising and caring for your dogs. The site provides very useful tips on various topics including nutrition for your pets, understanding dog behavior, finding the right sitter, and deciding on the type of leash to use among others. It has updated information and stories for and about our pet.
Laurie Brzostowski is the woman behind this great site for pet lovers. She is the owner and president of Snapple Foot Dog Walks & Pet Care in Round Lake Beach, Illinois. Brzostowski is also the indepenent distributor of Flint River Ranch All Natural Holistic pet foods.