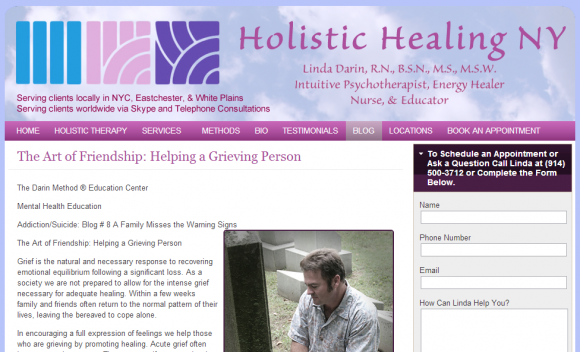 As people go through life's trials and tribulations, it's important that they develop the ability to heal and eventually move on. Unfortunately, not everyone knows the right way to heal that it takes a long time for some people to see the light and move forward.
The Holistic Healing blog of Linda Darin is one of the best sites to turn to for valuable tips and information on ways to cope with the different problems life brings our way. Darin is a nurse, psychotherapist, energy healer and educator with more than 30 years of experience in the health care sector. The founder of Holistic Healing NY and The Darin Method, she is dedicated to helping people heal their mind, body and spirit regardless of the problems they're facing.
The Holistic Healing blog also provides a step by step guide on coping with a loss of a loved one, addiction to alcohol and illegal drugs, depression and other mental and emotional disorders. Author Linda Darin shares the stories of some of her patients while providing insights into their condition and tips on the ideal ways to help them recover.