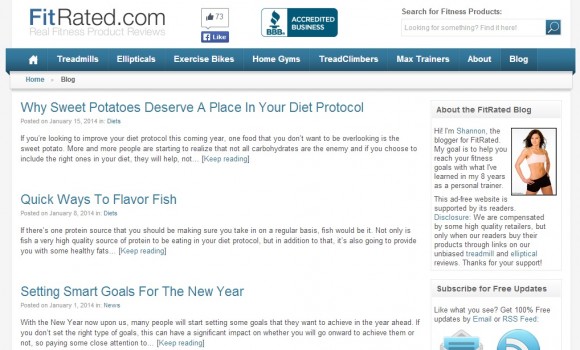 Setting fitness goals and deciding on the best exercise equipment to use may not always be easy. With an overload of information online available these days, it can be a challenge to look for the best resource.
The FitRated Blog is a must-follow site. It offers crucial information about popular fitness equipment including ellipticals, treadmills, treadclimbers and more. You can also count on its product reviews and discussions on workout, weight loss & diet strategies to save you time and money meeting your fitness goals.
Four fitness enthusiasts namely Kevin, Shannon who's a personal trainer and blogger, Aaron and Brian are behind this blog. They are on a mission to help people make wise choices and investments in reaching their goal of leading a healthy lifestyle.
A great advantage of FitRated over the other sites is its ad-free interface. This allows visitors to focus on the content they're looking for and absorb the details without being distracted.
The blog also offers subscription for followers who would like to get updates as well as a calorie burned calculator. Links to various types of fitness equipment are available for easy browsing.