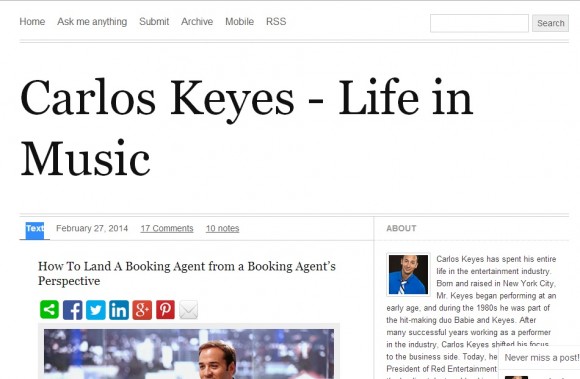 Aspiring performers from around the world often dream of landing a job in the Big Apple. But it's not a fast and easy process to work in New York City as one normally needs to work with an aggressive talent agency in order to get into the entertainment industry.
Fortunately, you can rely on the Carlos Keyes – Life in Music Blog to give you a better perspective of what it takes to fulfill your dream to perform in city that never sleeps. The site provides advice and tips on how to advance your music career from the point of view of a talent agent, booking agent in the music industry.
With three decades of experience in the entertainment industry, Carlos Keyes initially started out as a musician and producer and is currently President and head booking agent of Red Entertainment Agency in New York City. He is also committed to giving back to the community.