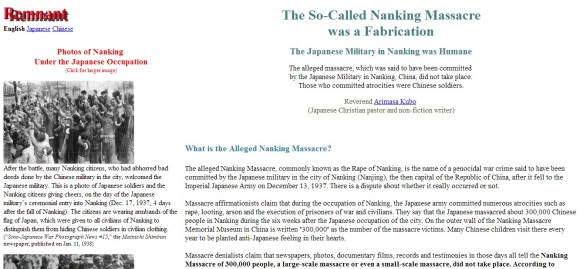 The Japanese military has always been a strong force before and during the Second World War the reason why they succeeded in occupying several countries many of which have eventually become their allies. Contrary to the negative publicity they received following the war such as the alleged Nanking massacre in 1937 in China, majority of the Japanese soldiers were actually involved in the restoration of peace in that area.
The Remnant website will show you how the massacre denialists defended the Japanese soldiers against Chinese allegations through articles and photos published in the newspapers back then. Committed to telling the truth and debunk the mass killings, these supporters have posted photos on the site showing how the Japanese soldiers interacted with the Nanking residents a few days after their occupation.
The full recount of what took place in Nanking and specific evidences proving that no massacre happened can be read on the site. Massacre denialists are on a mission to correct false and unfounded reports and to clarify that whatever executions took place at that time were legitimate.