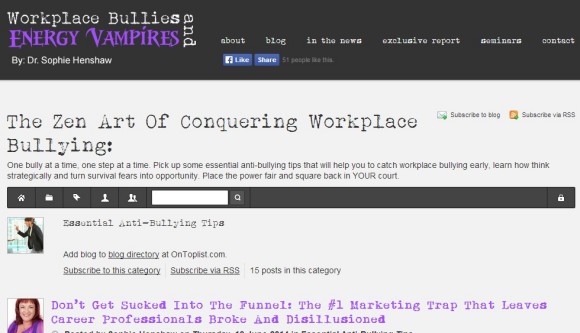 Bullying does not occur only in schools because even in the workplace, professionals experience this as well. It's an act that affects the mind and body as well as relationships and one that causes fear. In worse cases, it can even lead to depression and eventually suicide.
If you're a victim or someone who wants to help stop this act, The Zen Art Of Conquering Workplace Bullying blog is a perfect online resource to turn to.
Authored by clinical psychologist Dr. Sophie Henshaw, the site provides very useful information on the real scenarios in offices, how to catch the act early on, why timing is essential and ways on how to protect yourself. Dr. Henshaw herself has experienced bullying both personally and professionally and she is an expert on understanding people with personality disorders. With her expertise, you can be sure to conquer one bully at a time, one step at a time.