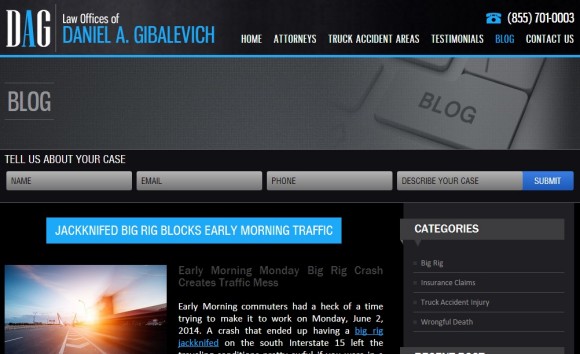 Trucks of different types often get involved in road accidents owing to their large size. Thousands of truck accidents are recorded each year leading to injuries and sometimes even death. In the U.S. alone, there are an estimated 15.5 million trucks of all types which make up 13 percent of the entire vehicles in the country.
If you want to know how to protect yourself and your loved ones in the event you become a victim of such accident, you can follow the Truck Injury Lawyer blog. The blog offers news about accidents involving trucks and what's being done about their cases.
The site is managed by experienced truck injury lawyers based in California dedicated to providing important information and personalized service to clients. Daniel Gibalevich is the head attorney of the firm.